JF Strainstall delivers structural health monitoring project on three Normandy bridges
Overview
JF Strainstall in partnership with the civil engineering consultants COWI, has designed and installed integrated structural health monitoring (SHM) solutions on three bridges in Normandy; The Pont de Normandie, Pont Tancarville and Viaduc du Grand Canal.
The project started in late 2018, with the installation and commissioning completed in mid-2019. The ongoing monitoring and maintenance support is set to continue through to until at least 2022.
Challenge
The scope of the project was to review and update the existing systems on all three bridges due to poor performance. The customer had specific concerns regarding deck fatigue and cable-stay failure.
 In contrast to their previous solution, the customer wanted an integrated platform that combined their data sources into clear, actionable insight to streamline processes and improve efficiency.
Solution
A key element of the updated solution was JF Strainstall's Smart Asset Management System (SAMS™), which produces intelligent insight through 'data fusion' in contrast with unintegrated data from multiple sources. The automated reporting feature of SAMS™ delivers the client monthly updates with a concise summary, empowering users to make quick, data-based decisions on the structural health of their assets. Key parameter displays have been developed alongside real-time email alerts for pre-configured events.
In total, there were about 400 sensors installed that monitor a range of parameters: strain, acceleration, displacement, environment and acoustic emissions. The system also integrated with third-party inputs and systems, amalgamating them into the SAMS™ platform, creating a single centralised point to compile and review multiple sources of data.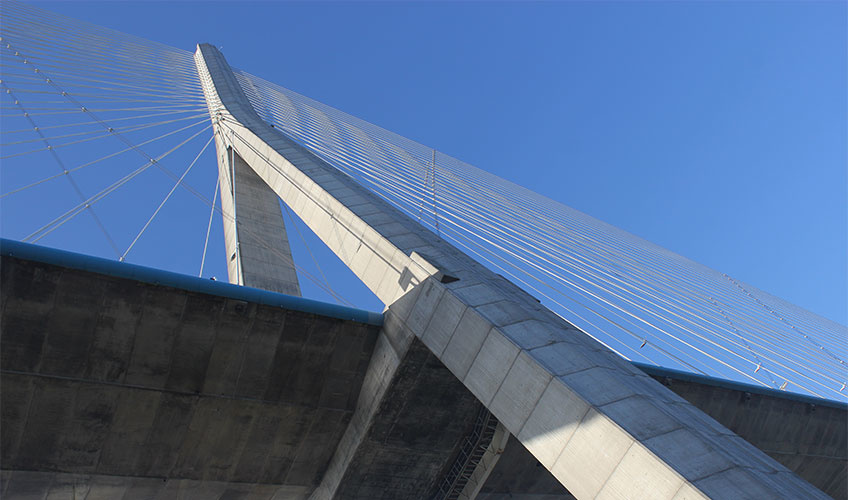 Yesterday I had the pleasure to test JF Strainstall' Smart Asset Management System. Through SAMS all of our questions were answered by [JF Strainstall], giving us invaluable data.

I would like to underline the impeccability of the standard delivered on the project and all the team that worked on it. I would like to thank [JF Strainstall] and individually all those involved for your attention to detail and the quality of customer service I received.

SAMS, a pioneering technology in France, has provided us with a solution to monitor all aspects of the Pont de Normandie bridge adding great value to its construction and longevity.

I look forward to working with [JF Strainstall] in the future and building a long term partnership.

Clément Fasquel, head of bridge operations at Le Havre Chamber of Commerce and Industry